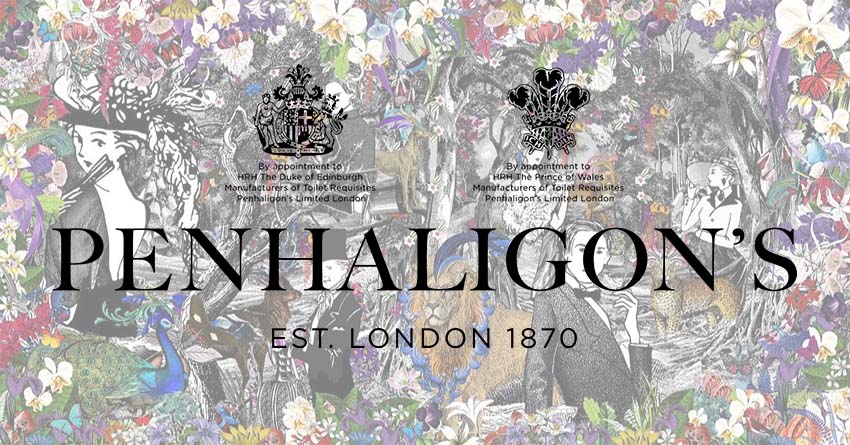 Penhaligon's is a British Perfume house that has a rich and varied history. The story began in the 1860's when a barber from Cornwall travelled to the vibrant capital and and opened a store on Jermyn Street searching for fortune, starting in this manner a distinguished career. This creative and ambitious young man was William Penhaligon, the founder of Penhaligon's.
In 1874 Hammam Bouquet was founded thanks to the inspiration proceeding from the aroma of the Turkish baths near Jermyn Street, opening that same year his own shop where he sold perfumes and other perfumed items.
This rich olfactory heritage of 147 years resides in the heart of all its fragrances full of integrity, personality and sophistication. Each Penhaligon's fragrance is unique and is built from a mixture of natural sources of the highest quality and the latest technologies in fragrance chemistry.

It is no surprise that Penhaligon's has been awarded twice with The Royal Warrant, the best recognition that can be given to people or companies that have provided goods or services for at least five years to Her Majesty the Queen, His Royal Highness the Duke of Edignburgh or His Royal Highness the Price of Wales.
Penhaligon's boasts two Royal Warrants demonstrating their excellence and quality. His Royal Highness the Prince of Wales awarded in 1988 and His Royal Highness the Duke of Edinburgh, awarded in 1956.
The Penhaligon's universe spins around its values: British heritage, contemporary aristocracy and eccentricity. Around these values their fragrances, which are grouped in four collections.
We would like to tell you about Portraits in particular. A tribute to English spirit, halfway between the established beauty canons, humour and provocation.
Each fragrance represents the essence of a person in a fun story. A fictional olfative experience in each perfume brings together the traits of an English person. Are they as courteous and educated as they seem?
Presenting the head of the family, Lord George, a respected and rich man. He brings to life aristocracy's most noble values: virtue, respect, loyalty and faithfulness. This fragrance reflects his essence. A traditional appearance with hidden secrets... The flesh is weak.
His wife, Lady Blanche, is one of the most influential women in Great Britain. Her distant beauty, mysterious past and burning passions are examined by all that surround her. She would do whatever it takes to continue climbing the social ladder, anything... even poisoning her husband to inherit his riches and bury her secrets forever. A charming yet dangerous fragrance.
Would you like to know more about the members of this enchanting collection?