Do you still not know how to do this trendy makeup technique? Contouring is the latest fashion, and no one can resist trying it. If you want to learn how to achieve a perfect look and get to know the products that you need … don't lose today's post!
First, you should identify what type of face you have: Round? Square? Triangular? Sometimes it is difficult to know what kind of face you have, and you might even identify more than one shape. Don't worry, it happens to everyone. In addition to the specific tips for each type of face, there are tricks that work for everyone. Also, remember that contouring is based on applying light tones to accentuate the features you want to highlight and applying darker tones to diminish the areas that you want to stay in the background.
Here is a very useful graphic for understanding which areas you should accentuate or diminish according the type of face that you have: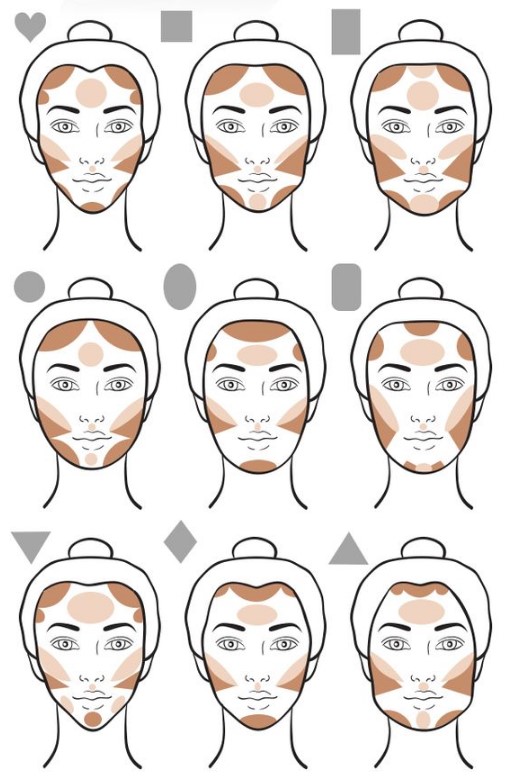 Before beginning the contouring technique, you should prepare your face. Thoroughly clean your face, apply micellar water and your daily moisturizer. Then, apply your usual primer. Ready? Let's get on with contouring.
Highlighter
Although there are many ways to go about contouring, all are based on the idea of highlighting and concealing the facial features that interest us the most. The light tone will help to illuminate and highlight the areas we like the most. In general, there are four points where it is applied: the forehead, the top side of the cheeks, the chin and the central area of the upper lip.
Our favorite is the corrector Sensai Skin Focus, in bar form. Its creamy texture and the bar applicator will help to draw the strokes on your face very easily.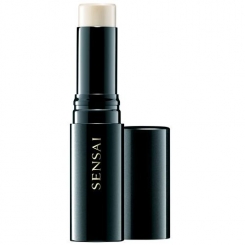 Dark concealer
While the light corrector showcases our features, we achieve the contrary with the darker concealer: diminish the unflattering areas. For example, if you have a round face and want to fine tune your features, you have to apply the darker tone on the lower portion of the face, with a generous strip (as seen in the main image).
Carefully use the dark tone in order to avoid unfortunate results, and apply it as seen in the image. The best option is to choose, as previously stated, a concealer or corrector in bar form, which is easiest to use. We love Clarins Concealer Stick: easy to use and available in various tones according to your skin type.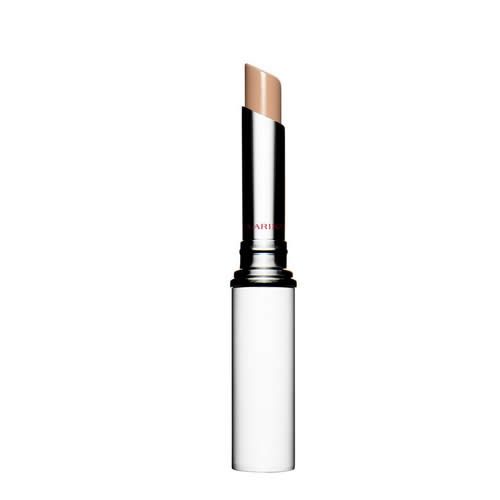 Makeup foundation
Once you have applied the strips of color, you must slightly and carefully blend the lines that you have drawn with a sponge specially designed for this task. Then, cover your face in a liquid foundation, dabbing and spreading it evenly.
Our team members are fans of the classic makeup Estee Lauder Double Wear. It has perfect coverage, is fluid and never sticky, and gives perfect results.
Liquid Makeup Estee Lauder Double Wear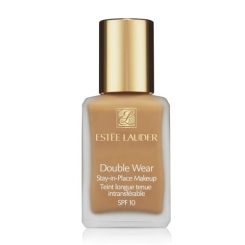 Bronzing powders and light revealers
The latest powders by Guerlain are must-haves if you want your makeup to be perfect. The Terracotta bronzing powders by Guerlain are known by all, and their natural finish and easy application (in addition to the wide variety of tones available) make them essentials in any makeup bag. If you have never tried them, this is a great excuse! They are ideal for shading and for getting the result you're looking for.
To illuminate the areas that you want to highlight and give a finishing touch to your makeup, we recommend Guerlain's light revealing powders. The Meteorites compact powders are exactly what you need to finish off your perfect look.
Bronzing Powders Guerlain Terracotta (2016) / Guerlain Meteorites Compact Powder