Have you heard about the new antioxidant treatment by Dior? If the answer is no, don't fret: our blog here at BeautyTheShop will fill you in about this brand new treatment that combats signs of aging, helping to maintain your skin younger for longer.
Better to be safe than sorry, right? Unfortunately, the fountain of eternal youth is just a myth and the best way to keep your skin radiant and young is by looking after it daily. For this reason the Dior laboratories have launched a brand new treatment, Capture Youth. It is a range that is aimed at people in their thirties and who are looking for their first anti-aging face treatment.
The Capture Youth treatment is made up of five serums and one antioxidant hydrating cream. Each serum offers a different treatment depending on your skin's needs, and they can be mixed too! The hydrating cream helps to maximize the serum's effectiveness by preserving your skin's age, as well as nurturing, toning and strengthening it.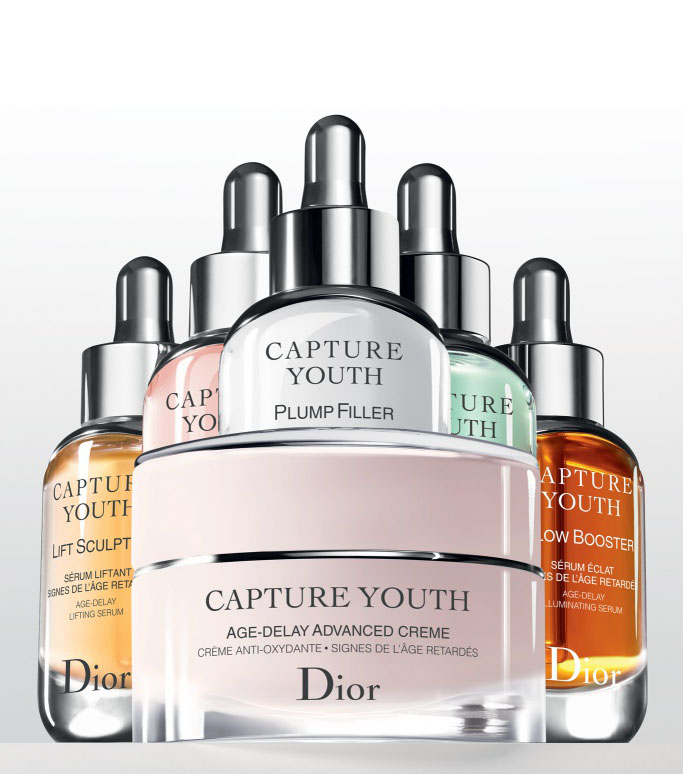 Below you can find a brief explaination about each product and which skin type it best suits, so that you can choose the perfect serum.
PLUMP FILLER SERUM concentrated hydration
If you are faced with unstable weather conditions, air conditioning, heating and others, this serum is ideal for you. Plump Filler Serum nourishes and hydrates your skin, making it smoother and more flexible. 
This serum is made of 87% natural ingredients, amongst them natural hyaluronic acid, obtained from fermented  wheat and antioxidant iris which helps to leave your skin perfectly hydrated and nourished, filling your skin.
GLOW BOOSTER SERUM illuminating
Have you noticed your skin is dull or clammy due to stress or lack of sleep? Do you wish you could get its glow back? We recommend the Glow Booster serum. The serum is composed of 80% natural ingredients. It is made up of iris antioxidants and Murunga cherry, a fruit with 100 times more concentrated vitamin C than oranges, this ingredient helps to make your face glow, as well as unifying its texture, fighting against your skin's imperfections.
MATTE MAXIMIZER SERUM mattifying serum
This serum is excellent for when your skin is faced with changes in temperature, such as cold, heat, humidity, etc. It is the ideal serum if your skin is too shiny and you wish to tone it down and mattify it. To help remove the excess oil in your skin, the Matte Maximizer contains lactic acid, pink clay and  zinc gluconate which will leave your skin smooth and free of unwanted shine. Its iris enriched formula is composed of 88% natural ingredients. 
LIFT SCULPTOR SERUM lifting effect
If you are looking for firmness and to obtain a stronger feeling skin, look no further than the Lift Sculptor Serum. This serum has a higher concentration of natural ingredients, with 92% and is enriched with iris. It gives you smooth skin instantly thanks to its quick and easy absortion, giving it more firmness and elasticity.
REDNESS SOOTHER SERUM anti-redness soother
Would you like a treatment to decrease redness, giving you calm and uniform skin? True Redness Soother Serum. This serum is composed of 79% natural ingredients and enriched with antioxidizing Lily. It is ideal for the most sensitive and reactive skin, giving you a sense of freshnees and calmness once applied on your skin. Your skin will be more protected and the redness will decrease visibly.
All five serums have undergone clinical autoevaluation tests that prove their multiple benefits. To maximize the serums effectiveness it is ideal to use the Capture Youth antioxidant cream.
This is an antioxidant cream that helps to keep your skin resistent and younger. As with the serums, it is made from natural ingredients, therefore respecting your skin. It has a fine and light texture which gives you soft and comfortable. The benefits have been clinically tested and confirmed by independent dermatologists.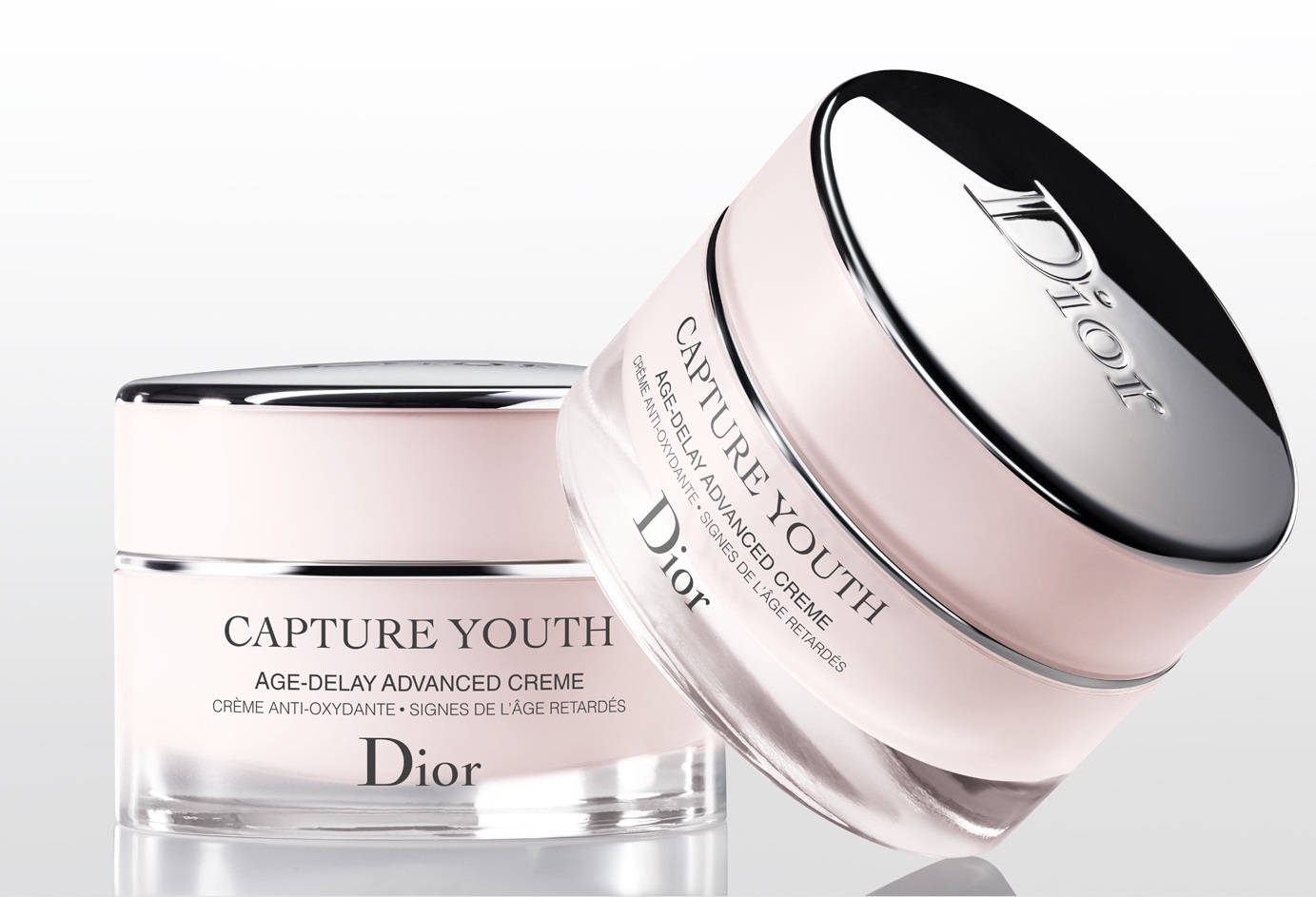 How do you use the Capture Youth treatment?
There are three different ways that you can use the products of the treatment
Layering: first apply the serum and then the cream. Remember that you can use different types of the serum depending on what your skin is lacking at that moment in time.
Mix&Match: mix and combine the serum and cream. Put a little on the palm of your hand and add between two and three drops of the serum.
Intensive treatment: if you are looking to rest your skin after a stresfull and intense period, use this treatment for 30 days using both the serum and the cream.
Dior has chosen the model and actress Cara Delevingne as the image for the Capture Youth campaign. The motto The Time is Now "Yesterday is history, tomorrow is too late, today is the moment" transmits a message that today is the day to look after yourself, to spend the time that your skin requires to prolong your youth and delay the signs of aging.