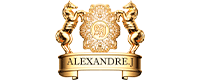 Alexandre J., creative french designer and in touch with everything, launches his eponymous fragrance brand in 2012 with a single predisposition: that of creation. He frees himself from the codes of the traditional perfumery to propose his vision of beauty: the alliance of luxurious packaging and exceptional fragrances.
His multi-cultural inspirations are felt in his creative process: mother-of-pearl bottle, glass paste cap, enamel medallion, pearl ornaments... He does not hesitate to associate with other artists from different artistic worlds to promote common creations that are always more surprising.
Architect of materials and senses, alexandre.J refuses compromise and gives life to objects that arouse emotion.
See all products