UNICSKIN is a dermocosmetic brand that unifies the concept of dermatology and cosmetics in one. The formulas of its products consist of more than 30 active ingredients, vitamins and natural ingredients with proven efficacy, without using "filler" substances that do not provide any benefit to our skin. Their products are firmly committed to being 100% free of alcohol, parabens, dyes, paraffins and comedogenic ingredients. In addition they do not test their products on animals, being a cruelty free brand.
Its founder is Mónica Sada who, since the age of 16, has been suffering from various skin problems: juvenile acne, atopic dermatitis, hypersensitivity to the sun and the beginning of psoriasis. After trying different cosmetic products of all prices, Mónica proved that the quality of a serum or a cream is not necessarily reflected in its price but that it is reflected in the concentration of its active ingredients and in that its formulas are appropriate to the requirements of each person.
To combat aging and various skin problems, it is not necessary to perform surgical interventions, hyaluronic acid or botox infiltrations, chemical peelings or laser resurfacing. The secret to having a beautiful and radiant skin is as simple as taking care of it properly and having the right tools. For Monica Sada, the key is efficiency, simplification and results.
The UNICSKIN team is integrated by the best technicians, doctors and professionals of the sector, who have designed a concept of efficient, simplified and personalized beauty to fulfill our objective of obtaining a perfect skin.
The efficiency is achieved by the maximum concentration of active ingredients in their products and combining them in a unique way to achieve the promised result for each product. A simplified beauty routine with which, in just a few minutes and with a minimum number of products, you will have a complete and perfect routine for the care of your skin. A personalized beauty routine adapted to each requirement, cutaneous problem and rhythm of life without having to use endless products and at a very affordable price for everyone.
Unicled Korean Mask, Unicskin

Telva Beauty Award 2018
 The Korean mask with LED technology is undoubtedly the flagship product of UNICSKIN, a trend in beauty care and the secret of celebrities such as Kim Kardashian, Jessica Alba and Kate Hudson.
Unicled Korean Mask has seven different colors to act on seven different skin requirements. From the comfort of your home you can enjoy a complete treatment that covers various facial problems. Depending on the requirement of your skin, you can carry out one treatment or another, being able to combine them and use more than one. We explain briefly the function of each light:
Red light, anti-aging light. It helps reduce fine lines and wrinkles. Ideal for photo-aged skin.
Green light, anti-stain light. Reduces dark spots and scars Perfect for hyperpigmented skin.
Blue light, anti-acne light. For acne and psoriasis skin.
Yellow light, lympho-tensor light. Ideal for red skin that's reactive and without luminosity.
Celestial light, zen energy light. To relax stressed skin, lacking in vitality and inflamed.
Purple light, healing light detox. Treats redness, post-treatment scars and helps wound healing.
White light, cell rejuvenation light. Treats skin flaccidity by firming and regenerating aging skin.
Led light therapy is highly effective and non-invasive, and also enhances the penetration of the serums applied after the mask.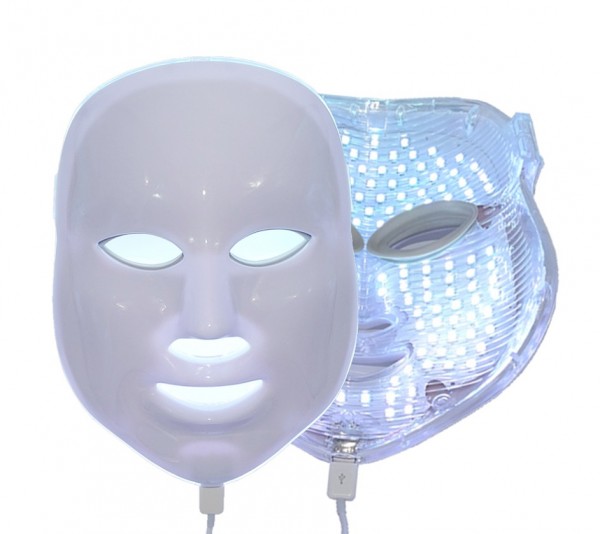 Available at BeautyTheShop Granada and on our website.

Don't miss out!