We recently showed you our favorite sun screens in our article Tanning safely: the best sun screens. Now we want to focus on your hair to help you protect it and to reduce sun damage during this time of year.
Collistar offers a revolutionary product for protecting your hair from the sun's rays and from the salt in the ocean. It is a spray-on sun protector with an oily texture: Collistar Perfect Tanning Hair Protection Oil Spray. The oil will not stain your hair or make it look greasy, but it will create an impermeable layer that acts as a protective barrier against outside forces, while simultaneously nourishing your hair and making it look stronger and shinier.
It's true! If you have light colored hair, Collistar offers repairing oil designed especially for you: Sun protection oil in spray for light hair.
If you are a practical woman, and you don't like to walk around with a thousand little bottles, Clarins has a solution that you will love. In one oil, you have sun screen for both your body and hair: Clarins Sun Care Oil Spray For Beautiful Body and Hair Spf30. It is the first dry sun oil appropriate for your body and all types of hair. It's water- and sweat-resistant, dry, clear and non-greasy. What more could you ask for?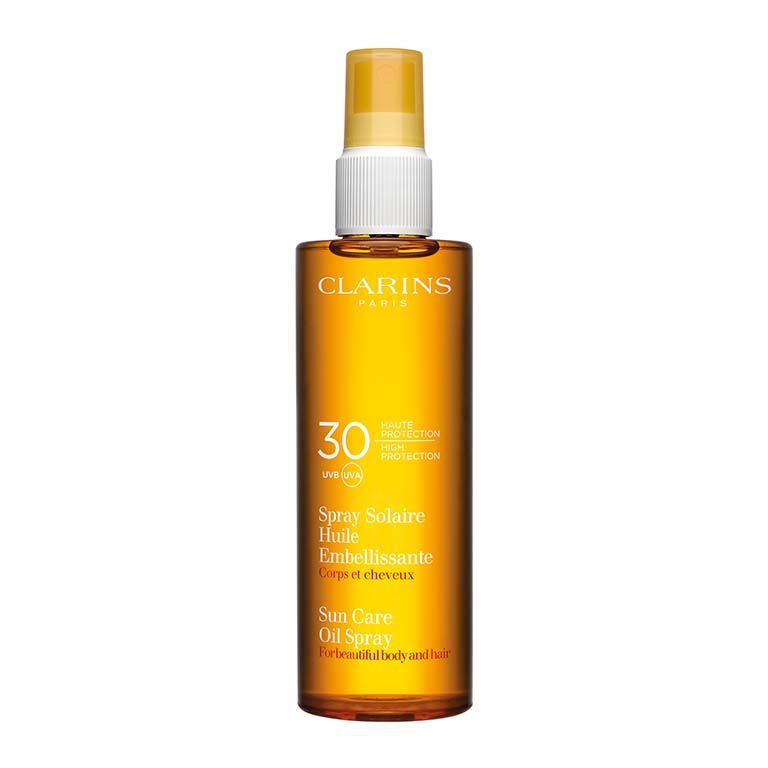 One of the most important aspects of hair care during the summer is hydration. With the Wella Sun line of products, you can maintain hydrated hair after your trips to the beach. Their hydrating shampoo and mask are specially designed to nourish your hair when you need it most.
Wella Sun moisturizer for hair and skin / Wella Sun express conditioner
The  BC Sun Protect by Schwarzkopf line of sun care products for hair is perfect for protecting your hair from the sun's rays during the summer. Apply their shampoo and repairing mask on a regular basis throughout summer, and you can avoid dehydrating your hair, which results in a dull and lifeless look.
Schwarzkopf Bonacure Sun Protect Shampoo /  Schwarzkopf Sun Protect Repairing hair mask
Don't forget your hair during the summer months. Take care of it and protect it from the sun the same way that you protect your skin from sun damage. Don't let your hair get damaged this summer, and avoid the end-of-season cut to "clean the tips"!
Have a happy week … and a happy summer!