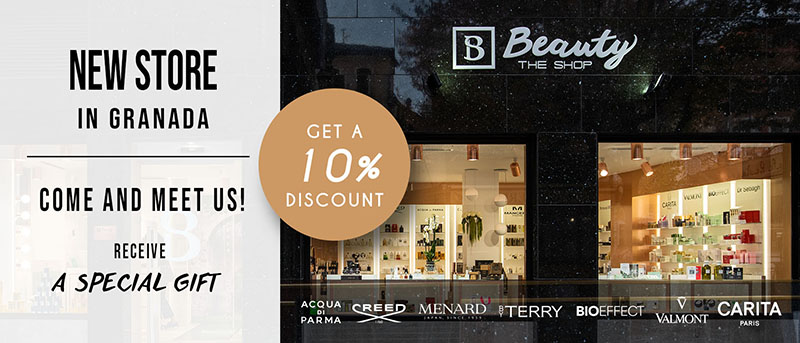 We are pleased to invite you to the opening of our second Beauty Boutique in the heart of Granada, in the iconic Plaza Bib-Rambla.
At BeautyTheShop you will find signature perfumes, premium cosmetics and makeup brands that boast international prestige, brands that are exclusively available at our stores in Granada.
BeautyTheShop Granada is literally on the Bib-Rambla doorstep. The new establishment has a hidden treasure inside: the remains of the main line from Medina al-Garnata Wall and the Puerta de Bab al-Ramla Tower; this national monument can be viewed through a glass floor.
In a privileged place, the dreamy Alhambra environment at the foot of the Bib-Rambla Gate, BeautyTheShop has created a unique experiences area, where the customer will enjoy exclusive and unmistakable fragrances. In addition, our dedicated customer service team is on hand for the customers, offering them personalized beauty advice. Here, water and skin are the stars.
To celebrate the grand opening, you will receive a 10% discount on our niche brands that can be used both in our physical stores and on our website.
 DISCOUNT CODE : BEAUTYUSA
At BeautyTheShop you can purchase exclusive and luxury products and receive personalized and professional advice from our BeautyTheShop team, which has been trained by the brands themselves. Likewise, you can be sure that you are purchasing authentic products as BeautyTheShop is the official distributor of these luxury brands. We offer a unique experience with our exclusive beauty treatments and signature perfumes.