At last! Summer has arrived! Sun, beach and holiday season, where color, joy and fun abound.
And with the arrival of summer, fascinating news and the new makeup collections of our favorite brands arrive. Watch out! The summer collections are limited editions, so they will only be available this summer 2018. Do not stay with the desire to get a wonderful summer look with the following summer news that we present below:

The Clarins summer collection we simply love it. Sunkissed is composed of unique editions of some of its products. Inspired by Florida, flamencos, palm trees and fun pop tones give shape and color to a collection that, in addition to being beautiful and aesthetically striking, is made up of high quality products.
Poudre Soleil: Sun powders are essential in your summer bag, and even more if they are as original and fun as these. It is maxi size and contains a three-tone gradient that adapts perfectly to your skin color, leaving a matte finish and a good face effect. They also protect the skin from the harmful effects of pollution. Are Clarins self-tanning powders wonderful or not?
SOS First summer edition: After the successful launch of SOS Primer, this summer Clarins has released two new tones. These prebases are ideal to prepare makeup and ensure its duration. They also correct, revitalize, illuminate and hydrate the skin with an excellent oil-free formula that allows the skin to breathe.
Stylo 4 Couleurs: A 4 in 1 pencil that is a brilliance. It works for the eyes as well as the lips. Penetrating black, emerald green, deep purple and vitamin pink are the colors of Clarins' all-in-one pencil summer edition.
Huile Confort Lèvres: A delight for the senses. Its texture, its smell, its color ... it makes a fanatic to those who try it. Formulated with vegetable oils, Huile Confort Lèvres offers comfort and hydration to our lips as well as giving us an intense and non-sticky color.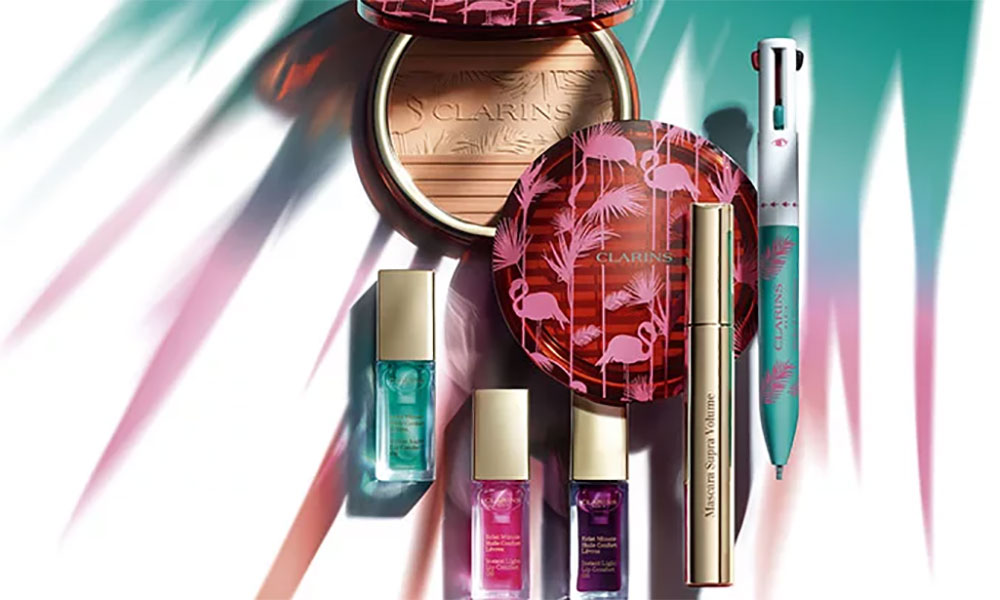 The Cool Wave collection by Dior is inspired by water, its reflections, the sun, the summer ... Both pop and romantic, this summer collection mixes enthusiastic and cheerful tones with watery blues. A sublime mix of warm and cold tones that fit perfectly making the perfect look for this summer.
5 Couleurs Cool Wave. This summer the shades and smoked in blue tones are trends, for this we have the shadow palette 367 Cool Down, spectacular. The other harmony of Dior is 597 Heat Up, with warm and summery tones. Both tones envelop our look and makes it shine.
Diorskin Mineral Nude Bronze: Dior's bronzing powders are enriched with minerals giving us a good face effect, unique and natural. Find the perfect tone for your skin.
Dior Vernis: Four fun and radiant tones to show off some spectacular nails this summer.
Dior Addict Lip Maximizer: Gloss with instant volume effect and moisturizing. Ideal for summer heat and dryness. Have voluminous and smooth lips with a mint and vanilla aroma.
Dior Addict Lipstick: Lipstick with mirror shine effect. Available in four fantastic colors for a limited time.
Diorshow Cooling Stick: This is a waterproof pencil eye shadow. Its formula illuminates tired eyes, revitalizes the eyelids and offers a sensation of freshness. Available in three irresistible tones: bronze, gold and pink.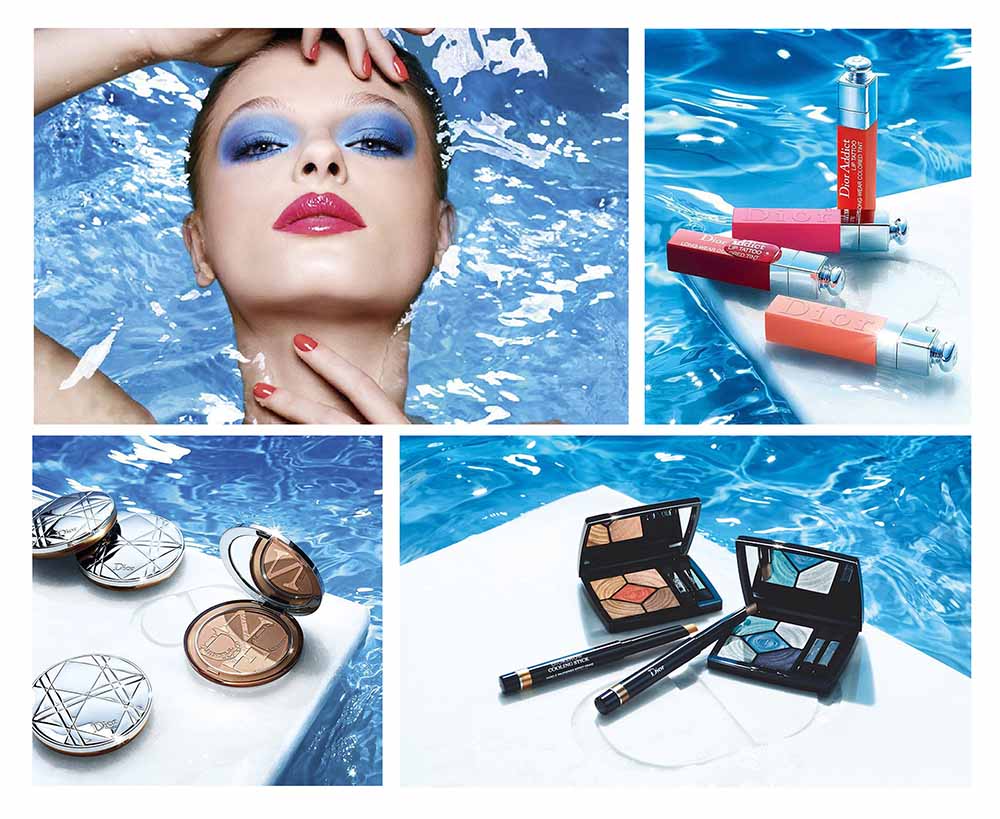 The new Summer 2018 collection, Hippy Chic, designed by Terry de Gunzburg, embodies all the glamor of Ibiza. In homage to the memories of the designer's happy and colorful youth, these beauty products reveal themselves so solar as irresistible.
This vibrant collection presents two new editions of the SUN DESIGNER shadow palette and the two-tone lipstick TWIST-ON LIP, intuitive and ingenious, it draws lips in a single gesture worthy of professionals.
Sun Designer: This exceptional palette creates a perfect "summer glow" in both light and tanned skin. Six shades to use as an outliner, highlighter or blush. Silky and soft textures that stretch, mix or overlap without leaving marks, instantly revealing a radiant complexion.
Twist On Lip: Ingenious and hyper intuitive, this two-tone lipstick creates, in a simple and easy gesture, the most beautiful gradient and the most daring and fun styles. Intensively concentrated in pure and intense premium pigments, its formula covers the lips with a glossy gloss finish. Available in 8 irresistibly vibrant bi-chromatic shades ... Do you dare to wear two-tone lips?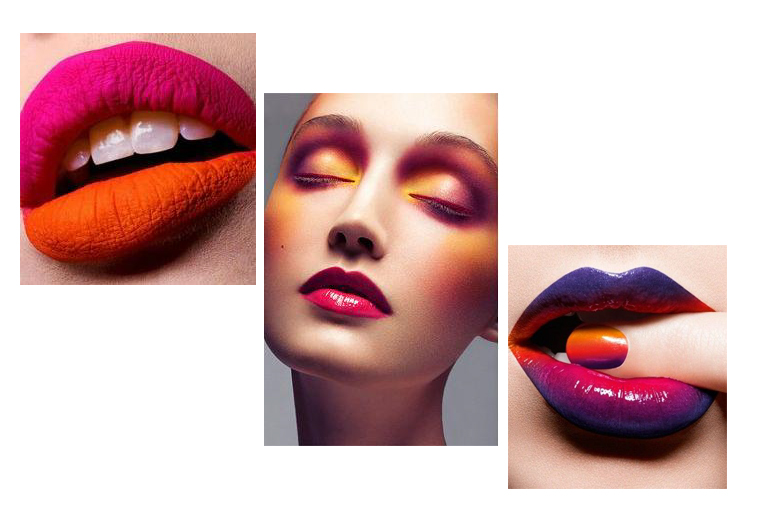 One of the most glamorous news, as far as lipstick is concerned, are the lipsticks and Rouge cases by Guerlain. You can customize your lipstick by choosing your favorite color among 30 shades and a case of 15 wonderful models.
The labial case has a double mirror to give your lips the color you want in each amount.
The Rouge G formula combines the most intense colors with a silky treatment, giving the lips a long-lasting, intense and durable color. It also nourishes, smoothens and redensifies the lips.

After looking beautiful and radiant in a beach bar, in the summer disco or at a dinner with friends, you have to clean the skin properly.
The towels that have revolutionized the way to clean makeup, bring us this summer a limited edition with very summery prints: refreshing watermelons and fun flamencos. They also come with a matching bag, transparent and waterproof, so you can store and transport them more easily.
Like the other Makeup Eraser towels, these limited edition towels eliminate makeup in a single pass. They dare with bases, blushes, shadows and even waterproof mascara, so used in summer. You only need to use the towel with a little water.