Even though we are increasingly aware of how important it is to protect our skin from the sun, there are many people who do not do so correctly. At BeautyTheShop we worry about your health, so we want to give you some basic tips about how to best protect your skin this summer. All will help you tan safely!
5 Tips With One Goal: Protection
1. Don't use your sunscreen just when wearing a bikini
Although many of us pack away our sunscreen along with our bikinis when summer ends, it's imperative to protect yourself from the sun all year long. It's very important to protect your face 12 months a year, because this skin receives the most sun exposure. It's a habit that everyone should get into, and it costs very little, simply by choosing daily moisturizing creams and make-up foundations that incorporate an adequate sun protection factor (SPF).
Good examples are Clinique's foundations, such as Clinique Even Better MakeUp, which guarantees an SPF of 15. Or there's the liquid make-up Anne Moller Hydragps BB Fluid, with a higher SPF of 25. In addition, if you're looking for a moisturizer with sun protection, we recommend Clarins' daily liquid antioxidant, Clarins Multi Active, for every type of skin and with an SPF of 15.
2. When do you apply your sunscreen?
One of the most common errors when applying sunscreen is made when we put it on. Many hope to go to the beach or the pool: we lay out our towels, set down our bags, and it's time for sunscreen! WRONG! Dermatologists insist on the necessity of applying sun screen between 15 to 20 minutes before sun exposure, so that our skin absorbs the product well and we're protected. Remember:
Don't spend too much time under direct sun
Avoid peak hours of sun exposure
Reapply sunscreen every so often, especially if you're spending a long time in the sun
3. Sunscreen for the body …
Pretty much everyone has a bottle of sunscreen in their beach bag. How much do you have? Have you looked at its expiration date? At BeautyTheShop we recommend our favorite sunscreens for when you're ready to restock…
You'll absolutely fall in love with the vanilla-scented Hawaiian Tropic sunscreen and moisturizer. We've used it since last year, when we first discovered it, and now would not change it for anything! It has an SPF of 30, but you can find other SPFs here.
Among our other favorite sunscreens, especially for more mature skins, is the Shiseido, Expert Sun Aging lotion, with an SPF of 30 and with anti-aging moisturizers to avoid aging your skin.
4. … and for the face
You don't use the same moisturizing cream for your face as you do for your body, right? Well, with sunblock you should follow the same rule, since the needs of the body and of the face are not the same.  In addition, depending on your skin type, you'll need a certain kind of sunscreen for your face. We offer two sunscreens for the face so that you can choose the one most suited to your needs:
Sisley Super Soin Solaire Spf50 Face / Clarins Antiaging Sunscreen for the Face Uva-Uvb 50
5. After sun
When you come home after a relaxing day at the beach … you set everything down, take a refreshing shower … and apply "after sun," of course! There is no greater pleasure than the freshness that you'll feel when applying it to your tan skin. In addition to calming the skin, "after sun" moisturizes extremely well and helps your tan last longer.
We recommend that you try Lancaster's after sun body lotion. It is applied during your shower like a normal gel, but includes a tan maximizer.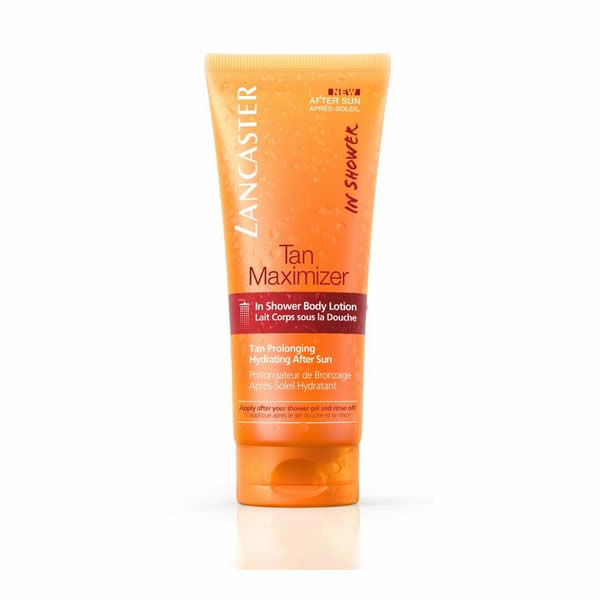 Now you know to protect your skin throughout the year, use quality products with adequate SPFs, and moisturize before and after. We're already looking forward to summer!
Have a great week!