The end of light colors for summer has finally come! For the summer of 2016, dark (and very dark) shades for lips are trending. Say good bye to pastels, pinks, corals and light glosses, and open your mind to burgundy, nearly-black reds, and shades of orange. Oh! And of course, the brown tones that were popular in the 90s are back in style.
Wine red
The color of 2015, wine red, has not been completely abandoned. Jennifer Lawrence wore a dark, ruddy lipstick very similar to Dior Addict Lipstick 967 Gotha, which was reminiscent of wine red in making her expression darker. It was a success at that time, since her messy blonde hairstyle is ideal for this shade of lipstick.
Beauty tip:  Pairing it with an intense black eyeliner would be the perfect look, and very quick and easy.
2016 trend: intense orange shades
Sisley Rouge À Lèvres L11 Tangerine is the color that we've selected as the one most similar to what actress Kate Mara, from House of Cards, wore on the red carpet. It's the lightest of all the shades, but it's still this season's trending color: orange. A sure-fire success!
Beauty tip: Copper colors in your eyeshadow will go well with this orange lipstick. Dare to try it!
Red-raspberry, a "delicious" color
The lipstick color that Rita Ora wore on that occasion was somewhere between a typical red and an intense raspberry. The lipstick Guerlain Rouge 76 is practically a perfect match for this look: dark but with a hint of lightness that will make you look radiant.
Beauty tip: We recommend pairing this marvelous color with smoky eyes that are not over done. We're in love with this look.
Dark + contoured lips: the perfect combination
A few days ago we talked about this new makeup trend: lip contouring. Today we are going a step further and fusing lip contouring with another trend: dark lips. It's a perfect combination that will give you the look you want. The lipstick Diorific 001 Diorama is perfect for getting the look that Sarah Hyland wears.
Beauty tip: Get the contouring effect by combining lipstick with this lip liner by Shiseido Smoothing Rd305 Siren
Get the contouring look with …
Shiseido Smoothing Lip Liner Pencil Rd305 Siren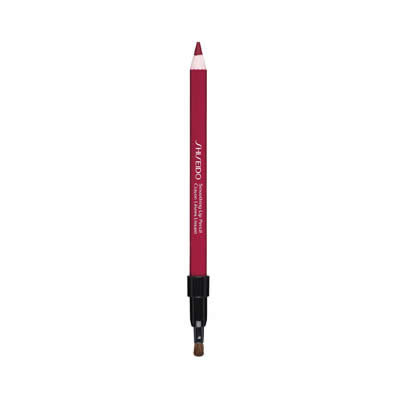 Vamp style: vampire lips
Vampire style, or as it's known in Hollywood, vamp style, consists of choosing the darkest colors on the palette, like what Lily Collins wears. It reminds us a little of the goth style that was trending a few years ago. Do you like it? If so, we recommend the lipstick Collistar Topgloss Stick 56 Ribes.
Beauty tip:  If you're daring and choose to try vamp style, we recommend that you do your eye makeup in light colors or even nudes. Outline your eyes very lightly and highlight your eyelashes to brighten your look.
Now you are up-to-date on this season's lip trends. Be bold with dark colors! And don't forget to tell us your beauty tips in the comments.
Have a fantastic week!